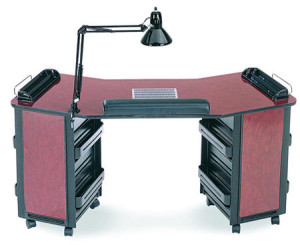 If you are looking into developing and opening a nail grooming business, it can be difficult to choose the kind of nail table that provides the best features. There are various features that you must look for when opting for a manicure table. Other than the good presentation, it must have great fixtures that can serve the purpose.
– The style
There are classic and modern tables for the use of performing manicures. Both come in portable and built-in types. Make sure you choose the right table style for your space. You can opt for a customized design table that is ultimately a vision of your own creation or simply obtain the units from stores.
– The color
The color of your manicure table determines how you want your space to look like. If possible make sure that the table blends in with the overall environment tones to avoid contrasts. Although color is not a primary feature, it's a wise thing to consider it as an option when getting your manicure table.
– The wheels
Manicure tables are equipped with wheels at the bottom surface. There is a foldable table and a conventional type with varieties of storing possibilities. The weighty table needs something easy to make it transportable. If you are using the table in mobile, you need roller wheel manicure table that enables you to move the units.
– The lamps
Nail grooming is a meticulous job. Sometimes it can be complicated just to paint the nail. What's more, you need to have proper lighting to avoid mistakes. Lighting is crucial when it comes to manicure tables. Make sure that it gives you adequate light supplement that is energy saving, too.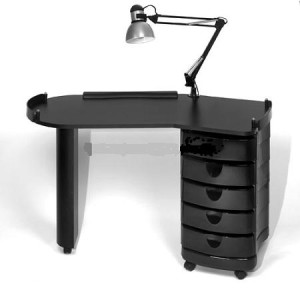 – Comfortable arm rests
Customer's satisfaction should be your aim. With a comfortable manicure table, your customer could kill time conveniently without rushing you. Your manicure tables need to have comfortable arm rest with pad that is easy to clean. It's important to keep your table clean after the dirty works. Hence, search for tables with leather pads and soft foam.
– Enough storage
Since nail grooming involves nail polishes, sticks, manicure instruments and many more, you might want to get a compact table with drawers. These drawers are your place to keep your belongings and keep the table organized. It is your way to declutter the mess without hassle and take care of your customer better.
If you are purchasing the tables from online, you can look for the features or ask more information from the supplier before you proceed. It's okay to ask in details about the table's specifications. Your nail table has to be functional furniture that will ease your work and provide the most comfort for your client.
Regularly, clean every table and make it a comfortable place for your customers.

Recent Posts
Popular Posts
Categories
Tags