Manicure tables are necessary for any nail manicurists to properly do their job right and efficiently. It helps them to set at a flat surface to perform their work. The nail table is like an office desk along with drawers and other features like arm rest and foot pads. Whether you are getting it from the store nearby or an online shop, you need to consider a few things that we have put on the lists below.
Choosing the manicure tables
Wood or steel
There are various types of materials that a manicure table can be made with and involove. Wooden table is more famous than any other materials because it can be shaped according to the style. Woods also give warmth for the client that puts their arms on the rest pad. But the wood can be really bulky, too.
Steel can also be your alternative when picking a manicure table material. However, steel can get rusty and if you are opting for the stainless material, it gets more expensive. What's more, steel tables add a minimalists and rustic feature to your space. If this is what you want your interior to look like, then go for a steel manicure table.
Fixed or rolling
The fixed manicure tables won't allow you to move them around. Hence, it stays where you place it from the beginning. It may take more people to transport it from place to place. Fixed tables are for a wide space area of nail grooming activities. This way, you can put as many as you need without having to move them around.
Rolling tables are the ones with wheels. You can move these tables around to your customers' seats. It gives a practical and efficient way to work on those nails. You can organize the instruments in the drawers and grab it when you need it.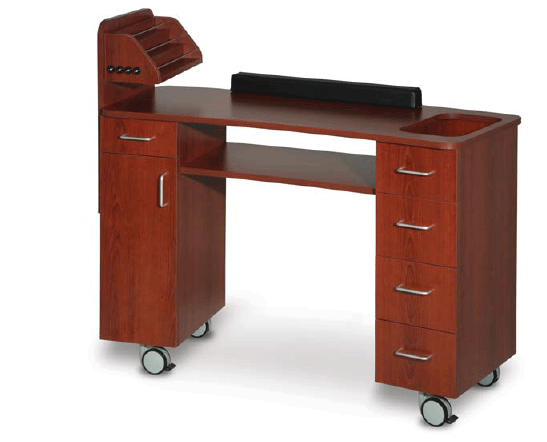 Many trays or many drawers
It depends on how you want the table to look. If you dislike a clutter table, then you should find the one with loads of drawers to keep your nail polishes. But if you want to attract customers with the varieties of manicure instruments you have, you can buy the one with trays that can exhibit the beautiful vibrant colors of your nail polishes.
Cheap or expensive
The cost is a relative measurement but it is one of the things to consider. Manicure tables come in varieties of sizes and shapes. The material also determines the price you pay for each unit. Table with many drawers and custom shapes may cost more than a conventional manicure table. Rolling table cost cheaper than the bulky one because the fixed tables generally own better quality. If you are purchasing a great amount of the tables, many supplier stores can give you discounts for your purchase.

Recent Posts
Popular Posts
Categories
Tags